This web site is maintained by John Bundy Productions © Copyright 2015 - 2020. All rights reserved.
No portion of this website may be copied, distributed, manipulated or posted without prior written consent from the creator of illusionbiz.com. Use of this website indicates understanding of this statement. The information contained on this and all accompanying pages are subject to change without notice.
International Stars of Magic and Illusion
John and Morgan perform high energy, grand illusion shows for amusement parks, corporate events, live theatre, television and marketing events.

Their performances deliver the finest in family entertainment, filled with magic, comedy, audience participation and Broadway style production values.
You will see people appear, disappear, dematerialize
and levitate right before your eyes!
"Hilarious!"

Westchester Broadway Theatre
"Sold out the Superstar Theatre"
Resorts Casino Hotel, Atlantic City, NJ
"You guys are great!"
Vincent D'Onofrio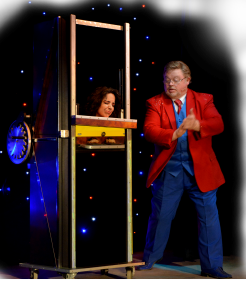 "Well Played!"
Neal Patrick Harris
Recipients of the Milbourne Christopher award for outstanding illusionists.
I met John twenty years ago when Worlds of Fun contracted him to provide a family friendly Halloween themed magic show in the Tivoli Music Hall. For the next nineteen years thousands of guests were entertained annually with world class productions
Dawna Welborn
Live Entertainment Manager
Worlds of Fun Kansas City, MO
.